You're about to marry the love of your life. No one makes you happier than your fiancé (and soon-to-be spouse), and your wedding vows are the perfect place to put all that love on display. It's natural that you want to nail this moment—to sweep them off their feet, to bring a picture-perfect tear to their eye, and every other lovely little wedding-day cliché.
That might sound like a lot of pressure, but with some inspiration (and a few tips on how to write your own wedding vows) you can easily deliver vows on this special day your love will remember and cherish forever (and for all the right reasons). We have assembled this list of inspiring wedding vows for him.
---
HOW TO WRITE WEDDING VOWS FOR HIM
When it comes to writing marriage vows, the one thing you need to remember is to speak from the heart. Your wedding is one of the most important days of your life, and you want to make sure your spouse, as well as your friends and family, feel all of your love and affection. To help you find the right words, we've compiled a variety of wedding vows for him examples to help you say the right thing.
VOW IDEAS FOR HIM - ONE-LINERS
Sometimes less is more. A short succinct statement can often carry more weight than a drawn-out speech. Touching one-line vows are also much easier for recipients to remember days and weeks later. If you want to leave a lasting memory with your fiancé and the other wedding attendees, think about how you can incorporate a powerful sentence or two into your vows. Here are some one-liner examples of vows for him.
"My dreams at night are reflections of joyous times we have spent together and adventures that await."
"I have never been more certain of a decision than wanting to spend the rest of my life with you."
"When I look in your eyes, I am reminded how lucky of a man I am."
"Sometimes I like to watch you just go about your normal activities and reflect on the joy you bring to my life."
"I am a better man with you in my life."
"I am excited about what my life path holds with you sitting shotgun."
"Words can't describe the amount of joy you bring to my life."
"I love and cherish you, secure in the knowledge that you are my best friend, my dearest, my kind and adoring wife/husband."
"Making you smile is the biggest accomplishment of my life."
"I can't wait to hold your hand as my wife/husband for the rest of my life."
Photo: B. Jones Photography
---
BEST VOWS FOR HIM - COMPLETE VOWS
Should you find that a one-liner doesn't capture the depth of your love, then creating complete vows might be in your best interest. Below we have compiled a collection of more detailed wedding vow examples for him to build upon a congruent thought or theme. The groom can read through some of these sample vows to gain inspiration and select the best wording.
"Today, [name], I join my life to yours, not merely as your husband, but as your friend, your lover, and your confidant. Let me be the shoulder you lean on, the rock on which you rest, the companion of your life. With you, I will walk my path from this day forward."
"You look so beautiful to me today, but know that you always look beautiful to me and will always be this beautiful to me, tomorrow, and the next day and the next. As gorgeous as you are right here and right now, I will only love you more and more each day of our marriage."
"I promise to be your faithful husband. I vow to love you when the sun shines, when the rain falls, in sickness, and in health, through good times and bad. When you look at this ring, think of me and remember that I love you always."
"Our love is unique because we are unique. Together we make something that has never been seen before. Together we make a force that holds the power to stand against any disaster, an engine of love the likes of which the world has never seen. Take my hand and as your husband, I vow to begin our journey in honest and true devotion."
"What is a husband? I must admit, I'm not sure. All I know is that I am devoted to you completely and I am a better person because of your love. A husband then is a thing that a good marriage makes, molds, and creates whole. If that is what a husband means, then I am prepared to be yours."
"On this day I pledge to be the husband you dreamed of marrying when you were a child. It will be my continued goal to uncover all your dreams for the future and work toward making them a reality that we can both share and enjoy."
"When you smile I feel a level of accomplishment you wouldn't begin to understand. When you cry, I interpret it as a failure on my behalf. I view your emotions as a gauge of how I am performing as a boyfriend, fiancé, and soon-to-be husband. I promise to continue to watch over you and strive to keep a smile on your face for all the days to come."
"Shade Garden", designed by Laura Hankins
---
OTHER TIPS FOR THE GROOM IN PREPARING VOWS:
It is not often that we have to read something we have composed in front of a large audience. Reading your hand-written vows on your wedding day can be a bit intimidating, especially if public speaking isn't really your thing. We have compiled some ideas on how you can create your wedding vows as a groom that will share your deepest emotions and potentially make people cry.
Reflect on an Anecdote: Everyone loves a good story. Close your eyes and think of some of the fondest memories you share with your fiancé. Maybe it is a fun anecdote of a trip on a lake when one person fell overboard. Or it could be a time you went wine tasting together in Napa. Look through photo albums on your phone to jog your memory on fun adventures you may have shared with your partner.
Once you have a story or two in mind, explain how much fun the two of you had and how that experience is a reflection of the times to come. What character traits exemplify why you love your fiance so much? If you can include a funny moment or two in your anecdote, that can help balance out the sentimental moments that may have the wedding guests teary-eyed. For ideas on some funny vows, we have created a whole separate list!
Pick an Appropriate Theme: This one is probably the trickiest to pull off, but if executed correctly, can have a powerful effect when creating the best wedding vows from him to her/him. Think about your partner and see if there is something they are passionate about. Perhaps they are learning astronomy and are fond of the constellations. Maybe they are taking up rock climbing and learning to scale new peaks.
"Key Ingredients", designed by Christie Garcia
Can you slant your men's vows to play on phrasing and ideology that fits in the same theme as this passion? For example, "Like the ancient astronomers who gazed into the heavens in anticipation wondering what clues about our universe they would discover, I share a similar excitement for what the future holds when I gaze into your eyes."
Brainstorm a list of terms and ideas that fit in with a certain theme and then see how you may be able to weave them into a well-thought-out summary of your love and vows for the future. As with all our suggestions of vows for him on this list, we encourage you to read through the vows in front of a close friend or family member prior to your wedding day. Have them provide their feedback to ensure everything is interpreted as you had intended.
Answer a Question: Start your brainstorming with a few questions. What is it about your fiancé that makes them so special to you? Why do you want to spend the rest of your life with this person? What do you want to tell your loved one in front of all your closest family and friends?
As you jot down these questions and answers, see what path you are led down. Can you draw inspiration from this exercise to help draft groom vows that are sourced from your heart?
Quote the Greats: If you have hit a creative wall, it may be time to reference some of your idols. Search through quotes from some of your favorite writers, poets, songwriters, or historic figures to get inspiration to compose your men's wedding vows. Here is just a small collection of some inspiring quotes about love to help you craft your personalized wedding vows for him. We encourage you to perform your own research!
"Love is a friendship set to music." - Joseph Campbell
"Lots of people want to ride with you in the limo, but what you want is someone who will take the bus with you when the limo breaks down." - Oprah Winfrey
"There are two basic motivating forces: fear and love. When we are afraid, we pull back from life. When we are in love, we open to all that life has to offer with passion, excitement, and acceptance." - John Lennon
"If tomorrow is judgment day,
And I'm standing on the front line,
And the Lord asks me what I did with my life,
I will say I spent it with you." - Whitney Houston
What Do You Promise: Let's not forget that a "vow" is a promise. More traditional vows in a church setting might have you promising to be by your spouse in sickness and in health. Think about what kind of promises you want to make to your loved one that will reassure them that they are making the right decision to spend the rest of their lives by your side. This can help you create groom wedding vows that come from the heart.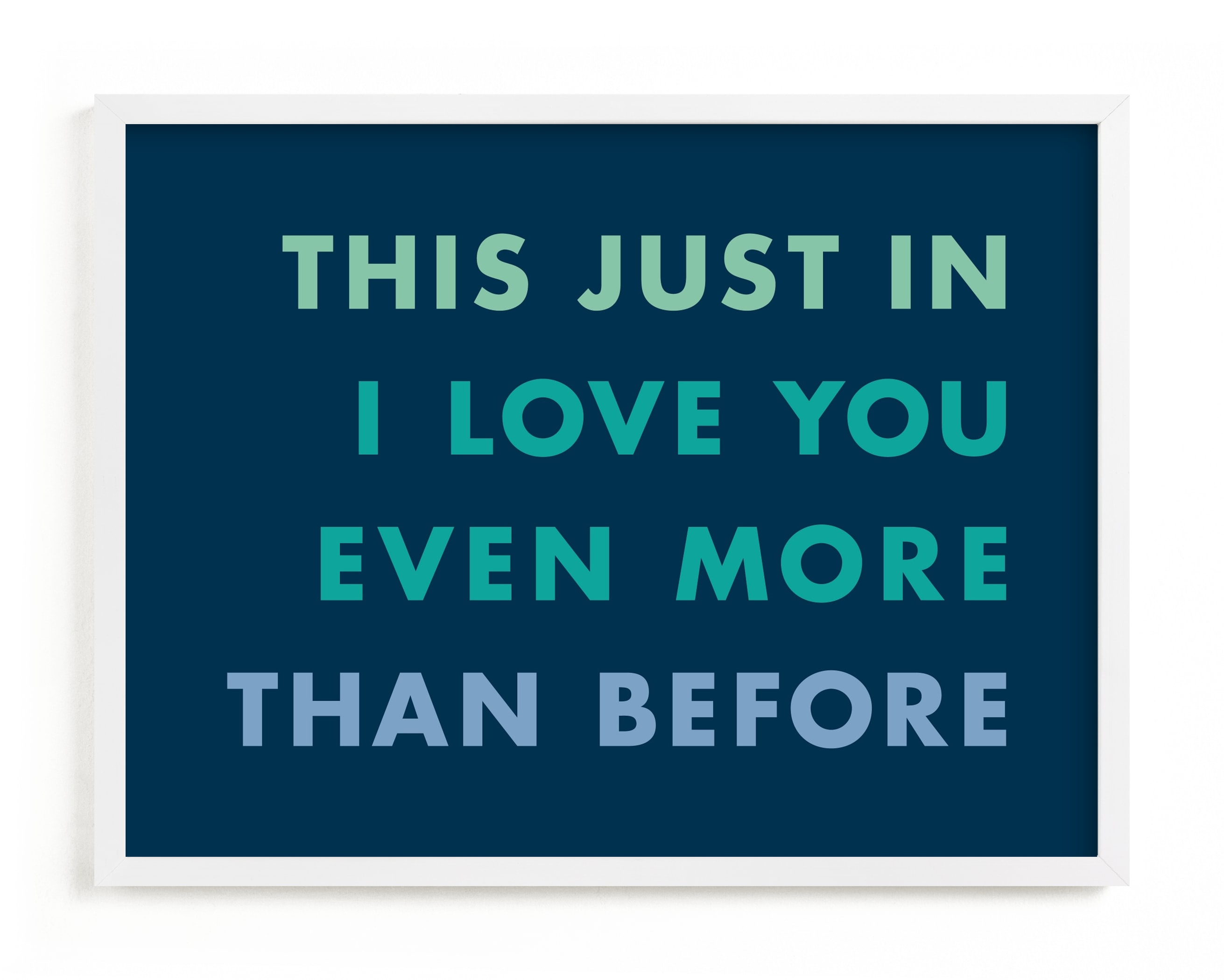 "News Flash", designed by hi-lighter, inc.
---
YOU HAVE YOUR SENTIMENTS WRITTEN, NOW WHAT?
OK, so you have written out your marriage vows and are happy with your final draft. The hard work is over, right? Not really. You still have to present your composition to your wedding guests. We have created a helpful checklist to review when planning the presentation of your vows.
Do Some Read Throughs: Some people choose to memorize their vows, while others write them on an index card and recite them. Whatever approach you take, it is encouraged that you verbalize your vows to make sure you don't stumble on some of the words. Take note of areas where you should pause and allow time for your fiancé to digest the meaning.
Get Feedback: We all know that people can interpret the same message differently. Practice reading your vows to a trusted friend or family member to get their honest feedback. Ask them what they thought about your words, the meaning, and your overall presentation.
Check with the Officiant: Have a chat with the officiant to understand when the vows will be exchanged during the ceremony. Organization is usually a precursor to success. When you understand the sequence of events in your marriage ceremony, you will hopefully be less anxious. Be sure to ask the officiant who will be reading their vows first, you or your spouse? If you are going second, understand that you may be more emotional having just heard your spouse's vows and seen them deliver their heartfelt words.
Have a Backup Copy: We can't think of something more embarrassing than misplacing your vows (except for maybe misplacing the rings). Have your best man hold on to a backup copy of your vows just to be safe. He is up there near the altar with you for a reason!
Consider Preserving Your Vows: Your shared vows can be a very memorable part of your wedding. Just like you would hire a photographer or videographer to preserve memories on camera, you could choose to preserve your vows in a fashionable and creative way. Have your written vows framed or take it a step further and have the words printed in gold foil and framed fashionably through Minted. This could make a great anniversary gift after your first year of marriage. After all, the traditional first wedding anniversary gift is something from paper.
We hope you found our list of short one-liners, complete vows, and tips for writing and presenting your vows helpful! We understand there is a lot of pressure on the groom to speak from the heart, which isn't easy for everyone. For additional sources, read through our other posts on funny vows, traditional vows, secular vows, and even renewing your vows.
"Mosaic", designed by GeekInk Design