How to Plan the Perfect Destination Wedding
Dreaming of a wedding on the beaches of a far-flung island? Or maybe in the city where you and your soon-to-be-spouse fell in love? Destination weddings are a fantastic way to make one of the most memorable days of your life even more amazing. But where do you even start to bring your dream big day to life?
Organizing a wedding can be challenging enough — and adding in the logistical considerations of a destination wedding can make things even more complex. The good news is that destination weddings are becoming more common and accessible, so bringing your dream wedding to life may not be as hard as you think. Destination weddings also come with many perks that can streamline the wedding planning process. With a clear vision and a little help from a wedding planner, you can achieve all your wedding goals.
In this article, we'll dive into everything you need to know when deciding if a destination wedding is right for you (and how to pull one off if it is). We'll walk you through everything you need to get started in our 10 steps to destination wedding planning.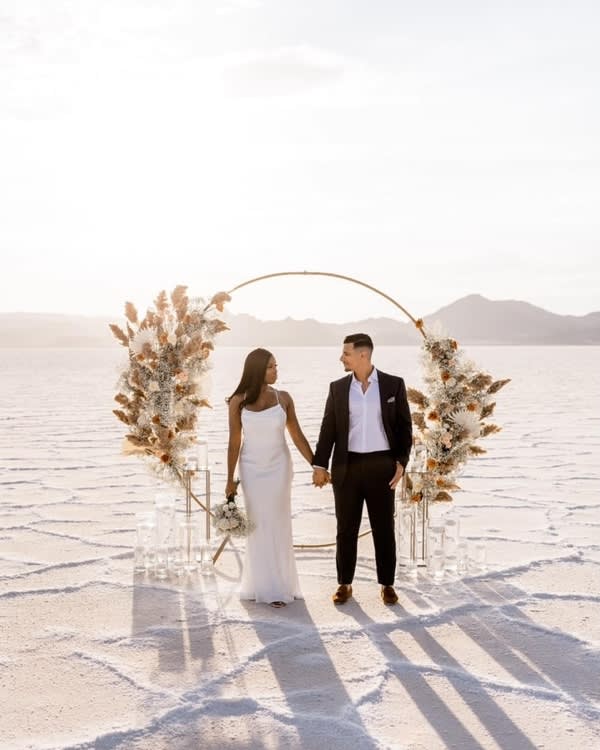 Photo: @rebeccaedahl
---
What to Consider when Planning a Destination Wedding: Pros & Cons
Pro: Your Special Day Becomes A Trip of a Lifetime.
This is the biggest pro of a destination wedding! Your big day turns into something more of a big week of making memories with your family, friends, and spouse-to-be that will last a lifetime.
Con: It Can Be Harder to Personalize Your Day.
Many couples opt to host their ceremony and reception at a resort when going the destination wedding route. Doing so can help streamline planning for your big day immensely, but the all-inclusive nature of these venues can make it harder to add in those details that can help your wedding feel like you. Hiring a wedding planner and asking potential venues about personalization options can be a good way to avoid this hurdle if it is important to you.
Pro: They are A Great Way to Keep the Guest List Small.
If you're looking to have a more intimate ceremony, then destination weddings can help you cut down your guest list without guilt. They are a great way to justify only inviting your nearest-and-dearest, as extended family you are not as close with aren't as likely to travel for your ceremony.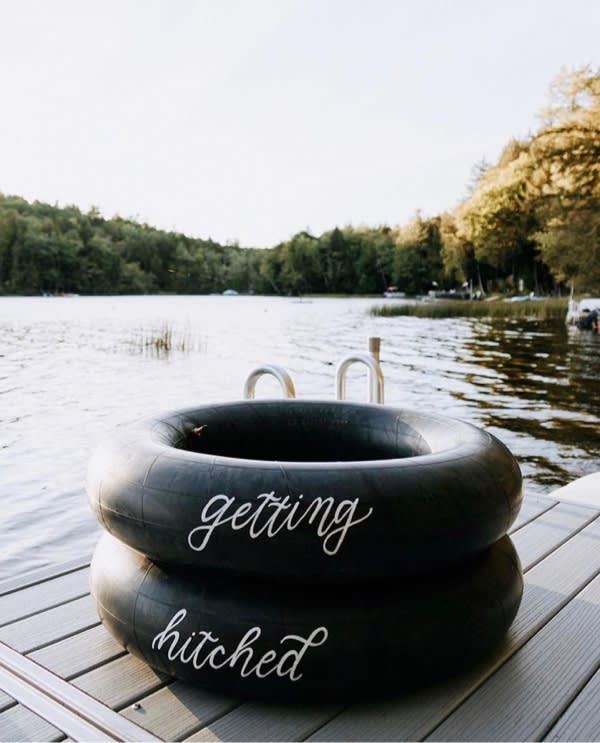 Photo: @loveandlaughterweddings
Con: Destination Weddings Can be Less Budget-Friendly.
Destination weddings are not that much more expensive than local weddings. The average destination wedding starts at about $35,000, while domestic weddings can start around $27,000. This amount can increase or decrease based on what you want to feature at your ceremony. Keep costs down by only inviting your closest friends and family and hosting a memorably intimate micro wedding.
Con: It is More Expensive For Your Guests.
On the flip side, destination weddings can be much more expensive for your guests to attend. This is especially true if your family and friends are already located in a central area — meaning everyone would need to travel to your ceremony no matter what.
Pro: They Can Give You Date Flexibility.
Want to host a tropical wedding in February? A Southern Hemisphere destination is right for you! Same goes for if you live in the desert but want a dreamy mountaintop wedding.
Con: Legality Considerations.
Every country has its own set of laws governing marriage and weddings. Be sure to do careful research on the legal considerations in your destination of choice as far in advance as possible. You may need to tie the knot officially at a local courthouse before you jet off for your ceremony.
---
Destination Wedding Planning Checklist & Timeline
We'll dive deeper into the most important steps in planning a destination wedding, but here's an at-a-glance checklist and timeline to pulling off your perfect destination wedding celebration:
---
12 to 18 Months Out…
Choose a location (this may involve planning a trip to your destination to tour and select a venue)
Book your venue
Check visa requirements & renew your passport (if necessary)
---
9 to 11 Months Out…
Book your vendors (especially your caterer, photographer, and any large decor rentals such as tables and chairs)
Send out save the dates
Create your wedding website
Set up a wedding room block at your venue or a nearby hotel
Recruit your wedding party
Purchase your dress and/or tux
Plan & book wedding-related events (welcome dinner, group outings at your destination, etc.)
Check marriage laws/requirements at your destination
---
6 to 8 Months Out…
Book your rehearsal dinner venue (note that it is customary to invite all of your guests to your rehearsal dinner if you're hosting a destination wedding)
Work with your venue/caterer to decide your menu
Order & send your wedding invitations
Continue booking vendors (florist, hairstylist/makeup artist, cake maker, DJ, officiant)
---
3 to 5 Months Out…
Book travel & transportation
Complete dress/tux fittings & alterations
Buy wedding rings & accessories
Schedule recreational activities at your destination
Book your honeymoon
Keep track of guest RSVPs & meal choices
---
6 to 8 Weeks Out…
Confirm ALL bookings & reservations
Get required vaccines for your destination
Ensure you have all necessary legal documents (birth certificate, passport, visas, etc.)
Buy gifts for the wedding party
Order favors & welcome bag supplies for guests
---
3 to 5 Weeks Out…
Build seating chart & order a place/escort cards
Mail any supplies you can't pack to your on-site coordinator
Have final wardrobe fittings
Pick up your rings
Make a list of any additional clothing/accessories you'll need for your trip
Make a plan for packing your dress/tux (do you need a special suitcase?)
---
1 to 2 Weeks Out…
Pick up dress/tux
Confirm travel plans
Ensure you have the proper cash (in the right currency!) on-hand to tip vendors (if necessary)
---
4 to 5 Days Out…
Pack your bags!
Arrive at your destination (ideally 1-2 days before the bulk of your guests)
Do a walk-through of your venue
Meet with your coordinator and other vendors
Apply for marriage license (if doing so locally)
Organize arrival bags for delivery to guests' rooms
Do hair & makeup trial
---
1 Day Out…
Have dresses & suits steamed for the entire wedding party
Enjoy your rehearsal & rehearsal dinner
---
Day Of…
Give yourself plenty of time to get ready
Enjoy your big day!
---
1
Step 1: Choose a Location
Obviously the first step in planning a destination wedding is picking a location! Think back to your favorite vacation as a couple. What did you love about the location? Did the weather play a big factor? Did you love the people and the culture? Was the architecture inspiring? Is there a dream destination on your bucket list? Answers to all these questions should help steer you toward a wedding location.
Here is a quick destination wedding checklist of things to consider when choosing your location:
Take the unpredictability out of a destination wedding by visiting the location before you start planning.
Committing to a ceremony venue, hotel, or resort sight unseen is a costly risk to take. It is not advised to ask friends and family to make extensive travel plans to a location that you haven't experienced firsthand.
Understand passport and visa requirements.
Will your guests need to fill out a bunch of travel forms to attend your wedding? Make sure they are informed well in advance. And while you're at it, double-check that your passports are up-to-date. If they are expired or will be expiring soon, get started on the renewal process ASAP.
Have a gauge on current travel risks and warnings.
This is especially important due to the COVID-19 pandemic or if you travel to rural areas. Understand how your dream destination has handled rising case numbers in advance to be prepared for any potential border closings or lockdowns.
Understand when huge cultural events (such as local religious holidays) or sporting events occur in your destination of choice.
These holidays can affect everything from venue pricing, accommodation availability, and ease of booking vendors, so it is wise to avoid booking your wedding on these dates.
Research local weather patterns.
Be sure to include this information on your wedding invitations so guests can pack appropriately.
Be prepared for language barriers.
What languages are spoken in the destination? Will your guests be able to get around comfortably only speaking English?
---
Top 5 Popular Wedding Destinations
Beach Wedding Destinations: When you think of a destination wedding, a ceremony held on the white sandy shores of a tropical island probably comes to mind. For more budget-friendly beachside destinations, look to the Caribbean — Jamaica, the Bahamas, and Mexico's caribbean coast all offer affordable and all-inclusive options. The Hawaiian islands are perennially popular for couples looking for a domestic destination, while Bali and the coast of Thailand are great options for those who want to go somewhere further flung. (You can check out our full guide to planning a beach wedding for more useful tips if this is your venue of choice!)
Mountain Wedding Destinations: Not many of us have the privilege of calling the mountains home, so if you're looking to get married on a picturesque mountaintop, you'll likely be planning a destination wedding. National and State Parks are great options for couples that want to host their wedding within the U.S. — places like Glacier National Park, Grand Teton National Park, and Olympic National Park are firm favorites. You can also opt to host your wedding at a mountain top resort like Colorado's The Little Nell, or a chalet nestled in the Alps.
Vineyard Wedding Destinations: Wine and weddings…need we say more? Vineyards make for a breathtaking destination, and are a great alternative to hosting your wedding at a resort as they typically are well-equipped to host both the ceremony and reception. Napa is the obvious choice for couples looking to keep their wedding in the U.S. while Tuscany and Provence are great options for those looking to head to Europe to say "I do." For an off-the-beaten-path destination, look for a venue in Mexico's Valle Guadalupe or the breathtaking South African winelands.
Historic Property/Villa Wedding Destinations: If you and your spouse-to-be are architecture or history buffs, hosting your wedding at a historic property is a beautiful way to celebrate your bond. The options here are endless, so remember to ask yourself some of the questions that will help you decide which destination will best fit your dream day. Italy and France are great options if you're hoping to get married in a villa or sprawling chateau, while England, Scotland, and Germany are perfect for castle lovers.
City Wedding Destinations: Hosting your destination in a world-class city like London or Paris is an epic way to turn your big day into a trip of a lifetime. Whether you're choosing a destination that is domestic or abroad, city weddings are a great choice if you're hoping to put a very personal spin on your ceremony and reception decor, as they'll offer the biggest choice of vendors. Outside of Europe, Charleston, Miami, and Las Vegas are some of the most popular stateside city wedding destinations. Marrakech, Bangkok, and Rio De Janeiro are becoming more popular international destinations.
Once you've decided the ideal location for your destination wedding, it's time to set your budget. This is super important to do before you start evaluating venues and picking out decor so that you don't overcommit yourself too early on in the planning process. Know that even if you have a smaller budget, there are some very creative affordable venues you can consider! A destination wedding is well within reach, no matter how much you plan to spend.
For in-depth tips on wedding budget, check out our in-depth guide on how to piece together your wedding budget.
With your budget established you can begin to make planning decisions. Your first major decision will be to choose between carrying the brunt of the planning yourself or opting to work with a wedding planner. Most wedding experts agree that working with a wedding planner that is local to the destination can ease the stress of planning an event in an unfamiliar place, and can be some of your best money spent on your big day. They can recommend venues, florists, photographers, and other vendors that are reliable and seasoned. They will most likely end up saving you money in the long run, which will cover the expense of hiring them.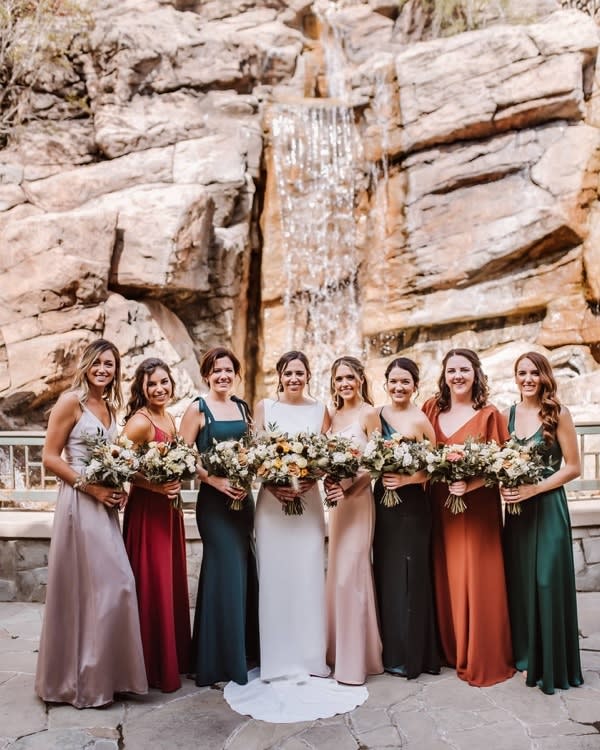 Photo: @devonadriannephotography
Anticipating Your Wedding Size
At this stage, it is also important for you to draw up a preliminary guest list to understand the size of wedding you'll need to budget for. Asking guests to book travel, accommodations, and potentially take a few extra days off work or away from their children will usually trim down the number of people who will actually attend your destination wedding. It is estimated that about 40% to 60% of guests invited to a destination wedding will RSVP and attend. Knowing your guest list will most likely be smaller than if you hosted your wedding in your hometown, will keep your costs lower for essentials like food, drinks, and venue size.
3
Step 3: Find a knowledgeable wedding planner
Your wedding planner will be your go-to person throughout this process. As we mentioned earlier, a wedding planner who is familiar with your wedding destination can make the planning process much easier, and will likely help you save money in the long run. Furthermore, they'll serve as your boots-on-the-ground person at your destination, which is crucial to ensuring the entire planning process goes as smoothly as possible.
Picking the right venue, caterer, and guest experiences can be overwhelming if you are not familiar with your location. Do your research and find a planner that has developed close business relationships with vendors, fun local activities, and great chefs. Finding a wedding planner with a deep knowledge of your destination is even more crucial if you do not speak the local language, as they'll also serve as your translator and liaison between you and all of your vendors.
4
Step 4: Research how to make it official
Be sure to research requirements for legal weddings in your location far in advance of your big day. Ask yourself, will your wedding be a symbolic celebration or a legal union? Do you want your marriage to be legally recognized in the country where you tie the knot?
Your answers to the above questions will help determine your next steps. Many couples choose to have a legal ceremony in their city before their symbolic destination wedding. If that is the route you choose, be sure to complete the necessary marriage license applications and make an appointment in your city if necessary (requirements vary state-by-state, and you can explore them here). Note that many states and counties are still dealing with backlogs of licenses to process due to COVID-19 shut downs, so we recommend doing this as early as possible!
If you and your partner would like your marriage to be legally recognized in your destination country, additional steps may be required. Many countries, for example, require a certain period of residency before you can apply for a marriage license. (France, for instance, requires proof of inhabiting a French address for at least 30-days before submitting a civil application.)
5
Step 5: Send Save the Dates early & keep guests informed
Be sure to send save the dates to guests as soon as you have solidified your wedding location and date. It is advised to send notice 9 months to a year before your event to give your friends and family enough time to plan for your wedding.
It is best practice to reference your wedding website on your save the date (you can check out some save the date wording examples in this guide), so guests can stay up to date with lodging recommendations, travel checklists, and advice. Remember that while traveling is always exciting, it can come with its own set of requirements. Your wedding website should remind your guests that they may need to update their legal documents, such as IDs and passports, prior to booking their tickets. International travel may also require additional documents that differ from domestic travel guidelines, so be sure to keep your guests well informed.
Your official wedding invitations can be sent 3 to 4 months before your wedding date, and be sure to use your wording to reiterate travel requirements and considerations at this time!
6
Step 6: Finalize Your Wedding Vendors
No matter what type of wedding you're planning, we always recommend researching and booking your vendors as far in advance as possible. Typically, you'll want to begin this process as soon as you have your venue confirmed — and it is always a good idea to talk to your venue to understand if they have any preferred vendors. Here are a couple tips to keep in mind when choosing your vendors:
Photographers: Work with a local photographer that is familiar with the most beautiful and unique places to take wedding pictures in your destination. You may want to schedule a day shoot before your wedding at some cultural landmarks to help you remember the charm of your destination. Feel free to print our checklist of questions to ask your photographer.
Music Entertainment: Will you be creating your own wedding playlist, hiring a local band, or choosing a DJ? Whatever route you choose, be sure to include some hit songs from the local region. Your wedding guests will love dancing the tango, performing a hula, or listening to a collection of mariachi songs. An authentic music selection can really lock in lifelong memories about your wedding destination. Need help finding the right entertainment? We have a great checklist of questions to ask your wedding DJ or band.
Florists: Capture the beauty of a destination by picking a florist that not only understands popular wedding day florals, but also local arrangements that will leave a lasting impression on your guest. They'll also be able to help ensure the florals you've been dreaming of are actually available in your destination, and help you pick alternatives if necessary.
Caterers: Remember, people don't fly halfway across the world to eat food they can get back home! While you want to provide dishes you know your guests will enjoy, work with your caterers to see if there is a way you can infuse some local ingredients or dishes into your wedding menu. A local bakery can also create a unique cake for your event. Adding a cocktail that shows off the local fruit or liquor is another way to create a well-themed cohesive menu.
Decor Rentals: If your venue is not all-inclusive, be sure to have a good understanding of what day-of decor they'll be providing, and what you need to bring in outside vendors to handle. This could include things as mundane as generators and temporary bathrooms to show-stopping tents, table arrangements, and lighting.
7
Step 7: Find Lodging Recommendations
Accommodations are one of the top concerns guests have about destination wedding planning. Guests will feel much more comfortable if they are sleeping at an establishment that is hosting additional members of your wedding group. (It will also be much more fun for everyone!) Here are a few of our top tips for guest accommodations…
Offer Options at Different Budgets. Although you are not responsible for covering all your guests' accommodation costs, it is helpful to include a few options that cater to different budgets. Look into the resorts, neighboring hotels, and B&Bs in close proximity to the wedding venue to allow your guests to book at a price point they are most comfortable with.
Location is everything. Be sure to know how far the venue is from hotels and the airport. Cost savings are important, but staying at a location that is closer to your venue is worth the money. Having a hotel room nearby to rest between wedding events, to change into different outfits, and crash after a night of dancing is important. The last thing you and your guests want to do after a night of good food, drinks, and dancing is to make a long trek back to their accommodations.
The wedding party should be encouraged to stay at the same location as the couple. This will help ensure that rehearsals and the ceremony go off without a hitch. This lodging recommendation is key to planning a destination wedding that will run smoothly. The last thing you want is for people to be scrambling around for rides to the venue!
Think about transportation to and from your wedding events. Look into hotel services such as shuttles, rides share services, and the overall walkability of the area and add this information to your wedding website. A wedding planner that is familiar with the area will be able to give you suggestions about the best routes to take and the safest and most reliable car services to use.
8
Step 8: Plan Themed Day-of Decor
The location, setting, food, flowers, and surrounding culture will help set an unforgettable ambience for your destination wedding but subtle decorations can also help carry a theme forward. Think how you can feature wedding signs, menus, table goodies, and wedding favors to amplify your destination wedding theme.
A clever hashtag for guests to use when posting photos to social media channels can also reinforce your wedding theme. Think of a clever way to tie in the location of your wedding to the phrase you choose. Think #partnersinparadise or #happilyeveraruba — have fun with it!
9
Step 9: Coordinate Your Honeymoon
Consider extending your trip as a part of your honeymoon. You can stay a few extra days at your wedding location or make plans to travel to nearby cities and countries. Traveling from one destination to another can also be quite affordable since you have already probably completed the longest travel route.
10
Step 10: Plan a few tours & activities for guests to enjoy
Your wedding will be the highlight of this trip for everyone, but making memories during your stay is also important. It is rare to have family and friends together at a distant destination, so make the most of it! Planning short day trips, spa treatments, or exploring the city together will make your wedding an event to remember. Be sure to list a few of the breakaway outings you have planned on your wedding website so guests can decide if they want to join in!
---
Destination Wedding Packing List
The location is picked. The wedding is planned. Everyone is ready to go! Here is a destination wedding travel checklist to help get the essentials where they need to be.
Carry-On Packing List:
Avoid a wedding day disaster by keeping meaningful items in your possession while en route. Here's what we recommend keeping with you as you fly:
Wedding Bands
Sentimental Jewelry
Wedding Dress
Tux
Medications/Prescriptions
Proof-of-Vaccinations & Other Health Documents
Travel Documents (passport, visa, accommodation information, etc.)
Marriage License & Other Legal Documents
Foreign Currency
---
Checked-Bag Packing List:
Copies of all Important Documents
Electrical Adapters
Clothes for Downtime Between Wedding Events
Comfortable Shoes for Exploring your Destination
Sunblock & Bug Spray
---
Additional Travel Tips
International travel often requires a set of healthcare precautions. Speak to your healthcare provider about the vaccinations that you may need before taking your trip.
Prior to leaving, contact your cell phone provider to understand international phone plans. Will your phones work at your chosen destination? If you find that you are limited, download a texting app and establish meeting times and locations for all guests. Loop hotel reception into this information so they can assist your guests if needed.
Alert your credit card company of your international travel. This will save you the headache of dealing with flagged transactions and restricted card use while you are traveling. Having the local currency on hand is also important for tipping or for cash-only situations.
And there you have it! We hope our 10-step guide and destination wedding packing checklist helps you understand how to plan a destination wedding for the ages.
---
Is a destination wedding cheaper than a local wedding?
Destination weddings can be cheaper or equally expensive as a local wedding. As of 2022, it is estimated that the average destination wedding costs about $35,000, while the average local wedding costs about $27,000. That said, the average local wedding is larger than the average destination celebration, so cutting your guest list down can keep your destination wedding under budget.
Should I invite the same amount of guests to a destination wedding?
Because destination weddings can be more expensive for guests to attend, couples should anticipate more of their invitees to decline their invitation. Normally, you can expect about 15% of invited guests to not be able to make a local wedding, whereas that percentage is typically closer to 50% for destination weddings. If you feel like it is important that all of your extended family and friends receive an invitation, you can extend one as a courtesy and expect a lower attendance rate.
When should I send the save-the-dates?
Give your guests plenty of time to plan travel by sending your save-the-dates 9 to 11 months before you plan to say "I do."
Should the couple cover guest accommodations?
No, it is not expected that the couple cover the cost of guest accommodations. Ideally, you'll be able to extend discounted room rates to guests that book within a block of rooms at your chosen hotel.
Do I need a wedding planner for a destination wedding?
It is highly recommended that you hire a local wedding planner for a destination wedding. Having a go-to person on the ground in your destination will help make navigating language barriers, negotiating with vendors, and understanding all of your options for your big day much easier than trying to piece it together yourself from afar. Many couples report that hiring a local wedding planner ultimately saved them money on their destination wedding in the long run, and allowed them to enjoy the process of planning their big day with as little stress as possible.
Will my marriage be valid in the U.S. if I get married in another country?
Generally, yes. Any marriage entered into between two U.S. citizens in another country is recognized as valid as long as the union was legal when and where it was performed. This means you'll still need to get married legally in the U.S. before or after your destination wedding if you plan to host only a symbolic or religious ceremony.
Where do you get a marriage license?
If you plan to get legally married in the U.S. before (or after) your destination wedding, your marriage license can be obtained at your local county clerk's office. If you plan to become legally married abroad, do research on the local laws of your destination to understand where you need to go to obtain a marriage license.