Dreaming of a beach wedding? Us, too (like, a lot!). The appeal is obvious: the gorgeous scenery, the stunning photo ops, the warm weather, the casual and carefree vibe, and—of course—the unique decor opportunities. If you can swing a destination wedding, or are lucky enough to have a beach nearby, there's endless beach wedding inspiration out there.
So, how can you keep up with all these pretty possibilities? We've got some great ideas for planning a beach wedding. Okay, a lot of great ideas…
---
---
What to Expect from a Beach Wedding
Though undeniably beautiful, beach weddings come with a unique set of considerations for the happy couple. Here are the top things to keep in mind:
Weather: While there's nothing quite as magical as a fresh sea breeze, beach weather can be unpredictable. Be prepared for rain, wind, and intense heat by doing careful research on the beach where you plan to host your wedding. If possible, get in touch with locals that can give you insight on unique weather patterns. For example, though Southern California is sunny most of the year, May and June (the heart of wedding season!) are notoriously gray and cold on the coast.
Guest Comfort: In addition to being prepared for unexpected weather, you should also consider the comfort of your guests. If you're hosting your ceremony and reception on a public beach, where is the nearest restroom? Will there be shade for guests to cool off under if needed? How will older guests navigate the sand?
Sounds of the Beach: The sound of waves gently breaking on the shore is peaceful, but if the tide or a storm has caused a large swell, they may drown out your vow recording. Ask your venue if they are able to set up speakers on the sand, or think about pushing your ceremony back from the shoreline to make sure everyone can hear.
Public Access: There are very few truly private beaches in the United States (though they are more common in places like Mexico and the Caribbean). So it is a good idea to scope out the traffic level at your beach of choice to get a sense of how busy it is during the time you plan to host your ceremony and reception. If having onlookers bothers you, you may want to consider hosting your wedding at a resort with beach views, as opposed to on the actual sand.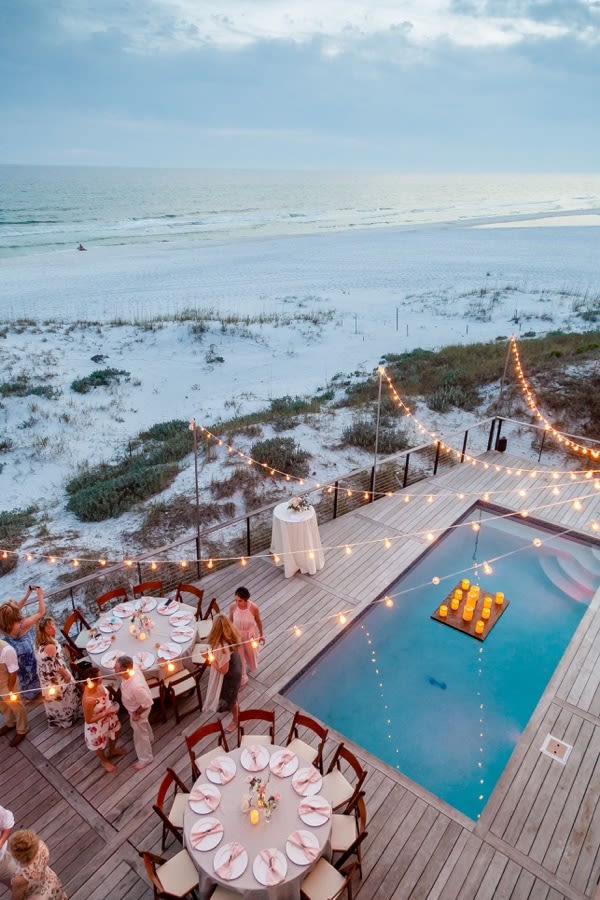 Photo: Serene Occasions
---
How to Plan a Beach Wedding
Planning a beach wedding can take a bit of extra legwork — but is more than worth it! Here's what you need to know.
Set Your Budget. Beach weddings can be very budget friendly or can be totally over-the-top. So decide on how much you realistically need to spend to have the celebration of your dreams. Your budget will also help you determine if you can afford a wedding planner, which many couples opt for when planning a beach wedding.
Get a Rough Estimate of Your Guest List. Before you go venue shopping, take some time to put together a rough guest list. Knowing how many people you intend to invite to your wedding is key to picking the right venue, as some options (like public beaches and parks) are better suited to smaller ceremonies.
Pick Your Venue. We'll do a deep dive into the types of beach venues in the next section, but you have plenty of options. One thing to keep in mind is that it will be much easier to host a large wedding at a resort, while smaller ceremonies can more easily be hosted on a public beach or a rental beach house.
Send Your Save the Dates. As it is likely many of your guests will have to travel to your beach wedding, send your save the dates as early as possible! Ideally, give your guests at least 6 months notice so they can book flights and begin to make preparations.
Book Your Vendors. It is also always good to book your vendors as far in advance as possible. If you're hiring a wedding planner, they'll also help you decide what vendors will work best for your wedding destination. For example, if you aren't hosting your wedding at a resort, you'll want to make sure your caterer is prepared to keep your food cold (or warm).
Decide on Your Decor. You can jump down to the bottom of this article for more decor ideas, but the key thing is to make sure your decor is as windproof as possible. Oh, and make sure you have plenty of ways to provide shade for your guests!
Have a Back-Up Plan. Beach weather can be unpredictable, and the shoreline ceremony you're envisioning may not be able to happen if an unexpected storm rolls in. So make sure to set up a weather contingency plan for your big day.
---
Beach Venues for Every Type of Wedding
There's a beach venue for every type of couple, and each comes with its own set of benefits and considerations. Here's what to know about the most popular beach venues.
---
A hotel, club, or restaurant located right on the shore or coastline will give you easy access to the water and scenic ocean views, along with all the conveniences of a fully staffed event venue. These types of resorts will typically have an onsite catering and an event-management team, making this a pricier option but a whole lot less stressful. The all-inclusive nature of this venue will also make it an ideal option for couples with large guest lists.
---
If you're hoping to tie the knot at your local beach, then start early. Sites run by the local parks department or city government are often affordable to rent but can be competitive to book due to their popularity. Look into applying for any permits required and keep in mind that since the beach is public, you might have a few curious onlookers peeking into your wedding. If you're taking this route, plan to have someone help you reserve your spot early on the day of your wedding and allow ample time for set-up and tear-down of your decor.
---
If you or family friends have beachfront real estate, you could save big on fees usually set aside for reserving a venue or location. Make sure to do your homework and understand if there are any noise restrictions, permits needed, or open-alcohol rules. Usually parking can be a challenge at someone's private beach estate, so you may have to plan for a shuttle service for your guests, or plan to keep the guest list small and intimate.
---
Not all beach weddings need to happen on the sand! A cliffside venue that overlooks the water is a great option for couples that want to make their wedding a bit more accessible for their guests. From public parks to private homes and resorts, there are beach overlook venue options for every budget.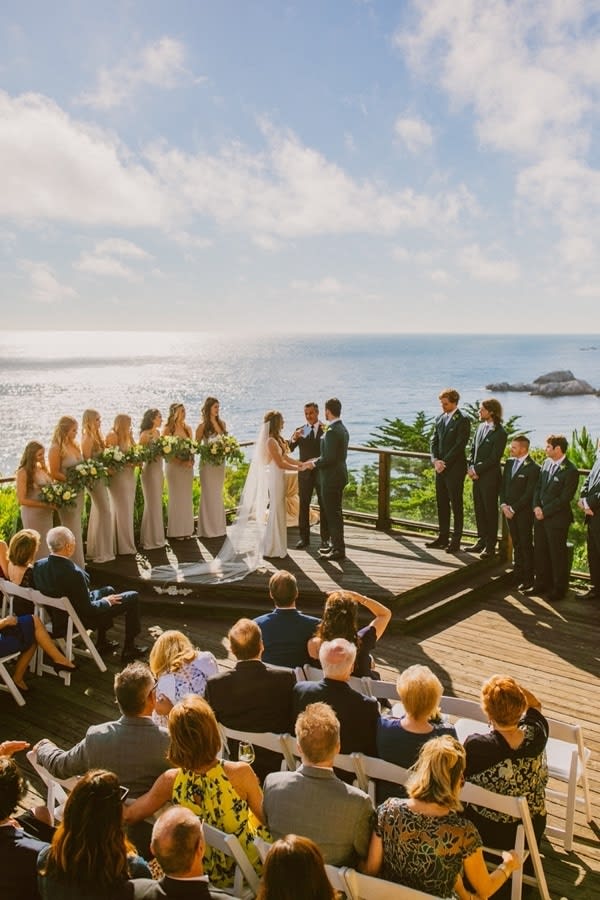 Photo: Olivia Markle
---
Unique Beach Wedding Color Palettes
---
Wedding Stationery to Go With Your Beach Wedding
Set the tone (and style) of your beach wedding with your stationery, particularly your save the dates and wedding invitations. You can bring the feel of your big beachy day in a number of design-oriented ways, including:
---
---
---
---
---
---
Attire
Here are some stylish ideas to bring in that relaxed, beachy vibe to you and your wedding party's attire.
Beach Wedding Attire for Brides & Bridesmaids
---
Since beachside weddings are usually more casual affairs, a bohemian inspired dress is a beautiful choice. It will also look great if you opt to go barefoot on the sand during your ceremony! Look for romantic off-the-shoulder silhouettes, lace details, and fluttery fabric that will catch the ocean breeze.
---
2
Classic Romantic Wedding Dresses
Dresses with a mermaid silhouette are another beautiful way to incorporate a beach theme. Look for a dress that features classically romantic details, such as a sweetheart neckline and vintage-inspired lace.
---
Swap traditional diamond jewelry for pearl accents on your big day to continue to tie in the beach theme. To keep things feeling modern, opt for uncultured pearls with more organic shapes and colors instead of more classic strings of perfect white pearls.
---
Though the sea breeze is beautiful, it does require some careful consideration when it comes to hair and makeup for the bridal party. Go for styles that will survive being blown around in the wind such as tousled up-dos and loose, beachy waves. When it comes to accessories, skip a veil that will get caught in the sand and opt for a subtle flower crown.
---
5
Flats, Block Heels & Sandals
Stilettos and sand were not a match made in heaven! If you're hosting your ceremony on the water, look for shoes that will allow you to walk easily down the aisle like low block-heeled sandals or strappy flats.
---
6
Modern Bridesmaid Dresses
We particularly love the look of mix-and-match bridesmaid dresses for beach weddings. You can achieve this by letting your bridesmaids choose from a selection of styles and colors, or go for the same silhouette in various shades of your color palette.
Photo: Carmen Santorelli
---
Beach Wedding Attire for Grooms & Groomsmen
---
If you're channeling a more sophisticated beach theme (like something sailing- or James Bond-inspired) a classic tux is more than appropriate. Just be sure to keep the weather in mind so your groom doesn't melt during the ceremony!
---
For a more casual celebration, the groom and groomsmen can skip classic black and navy suits for lighter colors like off-white, sandy tan, or even muted blue.
---
In addition to playing with color, grooms and groomsmen can look for suits and shirts in lightweight, breathable fabrics for a more casual beachy look. Linen in particular works for more laid-back weddings, and will look great untucked for grooms that want to really channel the surf and sand.
---
Yes, you can wear shorts to your beach wedding if you want to! The key here is to keep things feeling purposeful with lighter colors, untucked shirts, and unbuttoned collars. (Leave the bowties at home, please!)
---
Beach Attire for Wedding Guests
Use your wedding invitation as an opportunity to give your guests permission to be as casual as you want them to be. If your ceremony will be on the sand, let guests know they can go barefoot or show up in sandals! Use wording like "shorts and sandals approved" or "beach chic" to help communicate the dress code. Here are a few additional ideas for your guests:
Invite everyone to go barefoot for a beach ceremony.
Don't shy away from color: Bold reds, greens, and corals will contrast well with the sand, ocean, and blue skies.
Make a cute sun hat a part of your look.
Choose lightweight, breathable fabrics like linen, cotton blends, and chiffon.
Skip the stilettos and opt for wedges or stylish sandals.
Bring a lightweight shawl or scarf, in case a breeze picks up from the coast.
For more wedding-guest attire ideas, read our "What to Wear to a Wedding" guide.
---
---
Flower Ideas
A beach wedding doesn't necessarily call for a different approach to your floral arrangements, but it does open up the opportunity to do something a little different. Our advice is to choose flowers and decorations that won't compete with the beach setting, but rather beautifully complement it. You'll also want to make sure that any arrangements you choose are sturdy enough to stand up to beachy weather like heat and wind!
Here, we've rounded up our favorite bouquet, boutonniere, and beach wedding centerpiece ideas. And for even more floral ideas, see our complete guide to wedding flowers.
---
For the Bouquet and Boutonnieres:
Bouquet of tropical elements, like proteas, orchids, pink ginger, and assorted palms.
Boutonnieres accented with fresh succulents or small shells, or wrapped in nautical rope instead of ribbon.
Try swapping in succulents instead of traditional flowers.
For bridesmaids bouquets, pair a large monstera leaf or other palm fronds with two blooms, like anthuriums or birds of paradise.
---
For Your Beach Wedding Centerpieces:
Tie a rope around glass vases for a chic nautical touch.
Boho, breezy elements like pampas grasses placed in tall vases.
Palm fronds placed flat on the table linens like a table runner, with votive candles on top.
Small air plants at each place setting that can also double as a take-home wedding favor.
Candlelit lanterns on a base of fresh eucalyptus greenery.
Palm fronds combined with white phalaenopsis orchids.
Mix tropical fruit into the beach wedding centerpieces, like papayas, pineapples, and mangoes. Place them directly on the tabletop or display them in bowls alongside floral arrangements.
Swap out glass vases for arrangements housed in oversized shells.
---
Ceremony Decor Ideas
The biggest opportunity to differentiate your beach wedding from traditional weddings is with the ceremony. From colorful accessories to unique decor, you can bring your dream wedding to life with any combination of these ideas. It doesn't matter if you're actually saying your "I dos" in the sand or not. Here are some of our favorite beach wedding ideas:
---
There are plenty of ways to incorporate beachy elements into your ceremony arch. Decorate a more simply-constructed arch with palm fronds and other tropical greenery, or build a backdrop from driftwood and pampas grass for a more bohemian feel.
---
Use welcome and direction signs with nautical or tropical detailing to help your guests find their way to the ceremony. Minted offers hundreds of different wedding sign designs, so you can pick a sign that matches your invitation suite (as many invitation designs are available across a host of day-of signs and accessories), or go simple to let your beautiful venue speak for itself.
---
If you plan to host your ceremony on the sand, see if your venue can help you construct an aisle and altar area out of boardwalk-inspired decking or beach mats. This will help define the space and give the bridal party more flexibility in shoe choice.
---
Have a beverage station set up at the ceremony with chilled drinks so guests can keep cool in the sun. We love the idea of fresh coconuts on ice for a tropical-themed wedding. You can also hand out fans alongside your wedding programs, and provide other ways to help guests beat the heat like sunglasses, sunblock, or parasols.
---
5
Accessorize with Seashells
Line the aisle with loose seashells or fill large hurricane vases with a vignette of sand, coral, seashells, and grasses. You can also have your ring bearer carry your rings in a seashell instead of on a traditional pillow.
---
6
Decorate with Palms and Grasses
Line the ceremony aisle with pots, vases, or baskets of ornamental grasses. You can also wrap the pots with burlap for a more rustic seaside look.
---
7
Provide a Shoe Valet Station
If your ceremony will be on the sand, but your reception elsewhere, set up a "shoe valet" station and provide flip flops for your guests to change into.
---
Reception Decoration Ideas
---
There are so many ways to creatively incorporate a beachy theme into your tablescapes and centerpieces. Go classic with glass hurricane vases filled with sand, shells, and pillar candles. Driftwood pieces surrounded by glowing pillar candles in glass cylinder vases offer a more rustic feeling. Or, go boho by lining tables with lots of natural foliage.
---
Go for a storybook feel by using all tapered candles in complementary shades of blues or pinks throughout your reception space.
---
For a more casual feeling, skip traditional china place settings for vintage mix-and-matched plates, palm-frond chargers, and seashell serving dishes.
---
Incorporate textures of natural grasses and rope with woven accessories like bohemian lanterns, baskets full of blankets should it get chilly, and centerpieces that feature knotted details.
---
5
Beachy Seating Chart or Escort Card Display
If you are going for a simple seating chart, choose a sign with a beachy design that mirrors the rest of your decor. You could also go for a more elaborate display by taping escort cards to vintage surfboards or writing guests names and table numbers on seashells.
---
Keep your guests cool during cocktail hour by making sure you have plenty of places for them to take refuge in the shade. Set up canopied seating vignettes for guests to mingle under or playful groups of umbrellas.
---
Keep the party going long after sunset by giving guests the opportunity to gather around a beach bonfire. Be sure to double-check that bonfires are allowed at your venue, and then provide plenty of cozy seating and sweet lighting to give people a place to mingle.
---
Menu Ideas
Keep your menu choices on the lighter side for a beach wedding, and choose foods that reflect the local flavors of your venue. Be sure to opt for plenty of seafood to embrace the oceanside setting. You can even let your ocean-theme play over on the design of your menu cards.
---
For the Cocktail Hour:
A self-serve raw bar with oysters, shrimp, crab claws, and an assortment of sauces and lemon wedges.
Sushi station.
Miniature lobster rolls.
Miniature mugs of clam chowder.
Crab cakes.
Smoked salmon on a cucumber round with cheese.
Fish and chips.
Lobster mac and cheese.
Tuna tartare on wonton crisps.
Miniature fish tacos.
Shooter glasses of chilled tomato gazpacho.
---
For the main course:
Surf and turf with petite filet mignon and grilled shrimp.
Oven-roasted cod or halibut.
Grilled salmon with roasted corn risotto.
Grilled sea scallops.
Jamaican jerk meats such as chicken or pork served with rice pilaf
Hawaiian-style roast pork with lime
Seafood pasta for an Italian-inspired menu
Build-your-own poke bowl buffet with a variety of proteins (fish and poultry), toppings, and sauces
The wedding cake is a centerpiece in and of itself. It is a wonderful and delicious place to bring in your beach theme. A few of our favorite beach-themed cake ideas are:
Subtle, soft shades of blue inspired by the ocean.
Edible beach details (e.g., seashells, starfish, coral) fashioned from sugar.
Sugar sea glass.
Oyster or mussel shells (real or made from sugar).
Pair of miniature Adirondack chairs as cake toppers.
Rope details made of gum paste to give the cake a preppy vibe.
Lemon-flavored cake.
Tropical vanilla and fruit flavors.
---
Favor Ideas for Your Beach Wedding
When the night comes to an end, send guests home with a parting gift that will remind them of your celebration by the sea. Be sure to package them with favor tags that capture the decor of your reception.
Here are a few of our favorite themed wedding favor ideas:
Rosemary-infused sea salt to call to mind the white sand where you hosted your ceremony. (Add a customized label to each for a sweet, intimate touch as well)
Beach towels or lightweight blankets wrapped in twine with a sweet note.
Miniature pails filled with salt water taffy.
Beach-themed sugar or shortbread cookies.
Custom shot glasses with your names, wedding date, and/or location, as well as beachy details (e.g., palm trees, flamingos, starfish, beach balls, lighthouses, etc.).
Colorful flip flops.
SPF chapstick with a custom label.
Photo: Dave Richards Photography