While deciding your wedding invitation wording, what wedding invitation design you'd like to use, and even your wedding RSVP card, you're probably also considering exactly how to address your wedding invitation envelopes.
When addressing envelopes, there is specific etiquette that is generally followed. But as the world continues to change, it's always important to be up-to-date on how to address the envelope–both outer envelope and inner envelope–for your wedding.
How to Address Wedding Invitation Envelopes
Wedding invitations can include an inner and outer envelope, but an inner envelope is strictly optional. The outer envelope is what is stamped and addressed, while the inner envelope only has the names of the invitees, and contains the invitation inside.
For the sake of this post, we'll be discussing how to address your outer, or mailing, envelopes.
---
How to Address a Wedding Invitation to a Married Couple with the Same Last Name
Traditionally, the man's full name is written out, with the titles of "Mr. and Mrs." included. You can also opt to include both first names individually for a less traditional spin on how to address wedding invitations.
Mr. and Mrs. Jackson Clarke
or
Mr. Jackson Clarke and Mrs. Mary Clarke
This is the same for same-sex couples. Simply indicate the appropriate prefix in front of their names accordingly.
Mrs. Shyan Walton and Mrs. Kiara Walton
and
Mr. Denzel Grant and Mr. Francis Grant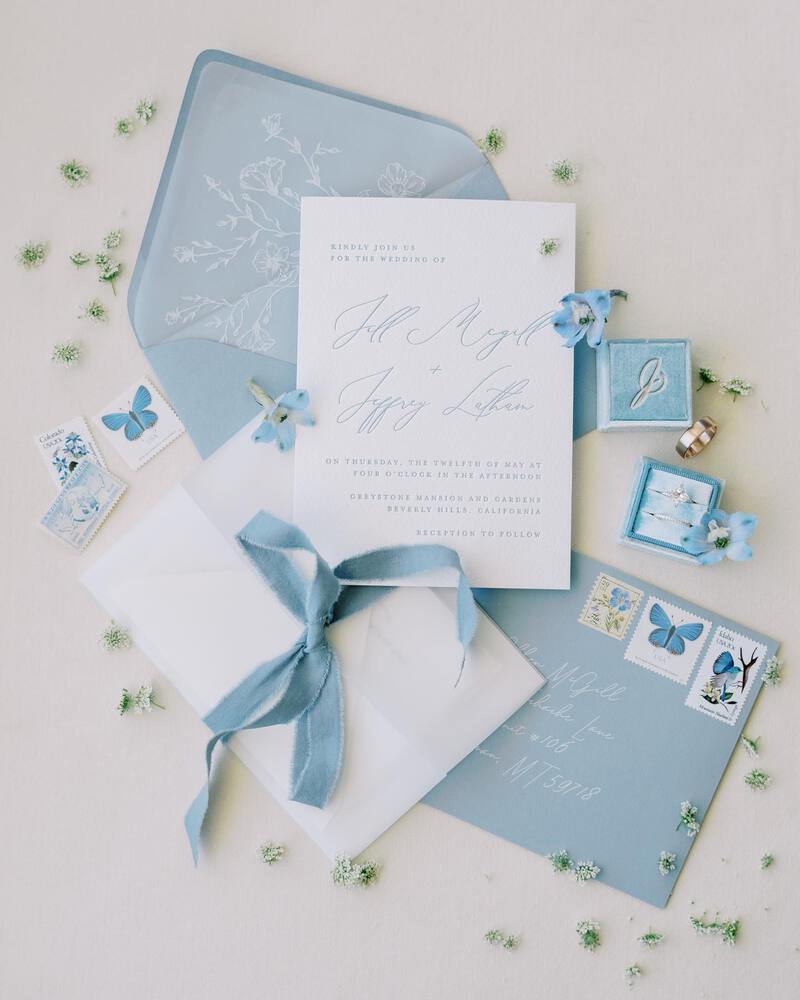 Photo by @thejillmcgill
How to Address a Wedding Invitation to a Married Couple with Different Last Names
For married couples with different last names, simply write out their full name with "Mr." or "Mrs." on the stationery. Either the man or woman can be mentioned first.
Mrs. Gwyneth Brookes and Mr. Cyan Matthews
or
Mr. Cyan Matthews and Mrs. Gwyneth Brookes
For same-sex couples, the same format applies. Make sure to address your guest with a suitable prefix.
Mr. Daniel Ramsay and Mr. Jeric Combs
and
Mrs. Margarette Hyde and Mrs. Kayla Cruz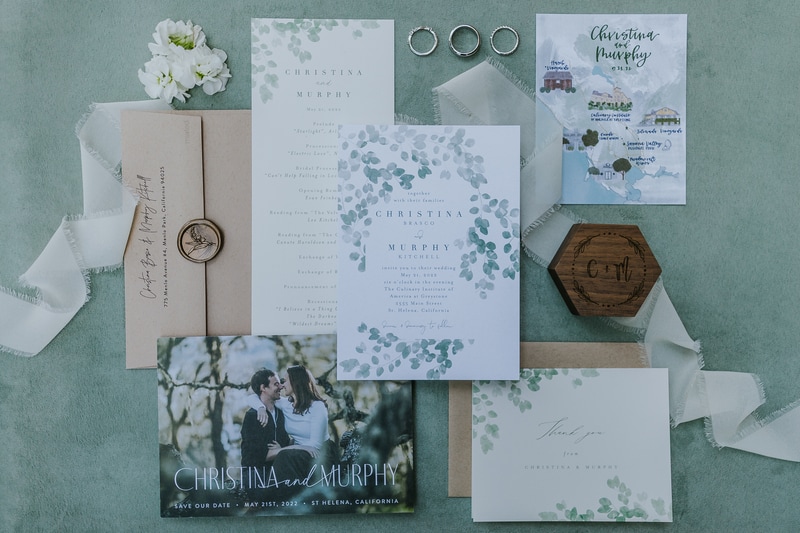 Photo by Rebecca Skidgel Photography
How to Address a Wedding Invitation to a Single Person
For single persons, whether male, female, or non-binary, the proper prefix should be used in addressing your guests.
For male guests use "Mr." then his full name.
Mr. Alex Griffith
For female guests use "Ms." then her full name.
Ms. Christie Leigh
For non-binary guests use the abbreviation of "Mx." then their full name.
Mx. Ryan Lowry
If you're looking to address a widowed woman, make sure to ask for her preference, but it is common to address the envelope with her married name.
Married name - Mrs. Sadie Schwartz
On the other hand, a divorced woman may use either of the titles "Mrs." and "Ms." This really just depends whether or not she goes by her maiden name or married name.
Married name - Mrs. Kristina Vasquez
or
Maiden name - Ms. Kristina Torres
"Sophisticate", designed by Kelly Schmidt
---
How to Address a Wedding Invitation to a Single Guest that Gets a Plus One
For a single guest that gets to bring a plus one, it's best to know the name of the person your invitee will bring. If not, simply include "& Guest" or "and guest," following the full name of the invitee.
Mr. Tyler Morris & Guest
---
How to Address a Wedding Invitation to an Unmarried Couple
For an unmarried couple that lives together, the full names of each guest should either be listed on one or two lines on the stationery, with the appropriate titles placed. It's best to open the starting line with the person you are closer to.
Ms. Alysson Schulz
Mr. Ricardo Gonzales
or
Ms. Alysson Schulz and Mr. Ricardo Gonzales
The same goes for same-sex couples.
Ms. Lily Pike
Ms. Jane Pearce
or
Ms. Lily Pike and Ms. Jane Pearce
Conversely, couples that don't live together and aren't married should receive separate invitations.
"Keirah", designed by Melanie Kosuge
---
How to Address a Wedding Invitation to an Engaged Couple
For engaged couples, it can be a bit tricky to know how to address wedding invitations to them. If you want to opt for a more formal route, it's best to address both people as unmarried. However, if you want to be casual with it, you can lean into the idea of the couple being future newlyweds.
Mr. Luis Smith and Ms. May Hyde
or
The Future Mr. Luis Smith and Mrs. May Smith
---
How to Address a Wedding Invitation to a Family
In deciding whether or not to invite an entire family, you should be sure of how specific you want your invitation to be. If you want to be general you can simply address the envelope to the whole family or include "& children" following the names of the married couple.
The Carter Family
or
Mr. Max Carter and Mrs. Natasha Carter & Children
In contrast, if you want to be specific on which of the family members are invited, simply list down the names of the children (in order of birth) in separate lines after addressing their parents in the opening line.
Mr. Max Carter and Mrs. Natasha Carter
Mx. Daniel Carter
Miss Alex Carter
Mr. Andrei Carter
Same-sex families should follow the same format.
Mrs. Jackie White and Mrs. Cara White & Children
or
Mrs. Jackie White and Mrs. Cara White
Miss Danielle White
Mr. Gabriel White
"July Garden", designed by Olivia Kanaley Inman
---
How to Address Wedding Invitations to Those with Distinguished Titles
For those with distinguished titles, there are several ways these individuals can be inscribed, married or not. When inviting two married doctors, the couple should be addressed as "The Doctors," which can be spelled out or abbreviated.
The Doctors Gabriel Roy and Alina Roy
or
Drs. Gabriel Roy and Alina Roy
Miss Danielle White
Mr. Gabriel White
For married couples where one of whom is a doctor, the order of addressing can vary depending on who is the doctor. In a heterosexual couple, if the woman is the doctor, her name should be listed with the title "Dr." before her husband's full name.
Dr. Sophie Peterson and Mr. Tyrone Peterson
or
Doctor Sophie Peterson and Mr. Tyron Peterson
For other married couples with distinguished titles, the same rule applies. Whichever partner holds a title "higher" than that of the other, that person would typically be listed first. On the chance that the names would not fit the starting line, indent the following line.
The Honorable Audrey Gilmour and Mr. Rafael Gilmour
and
Major Laura Holland and Mr. Alexander Haver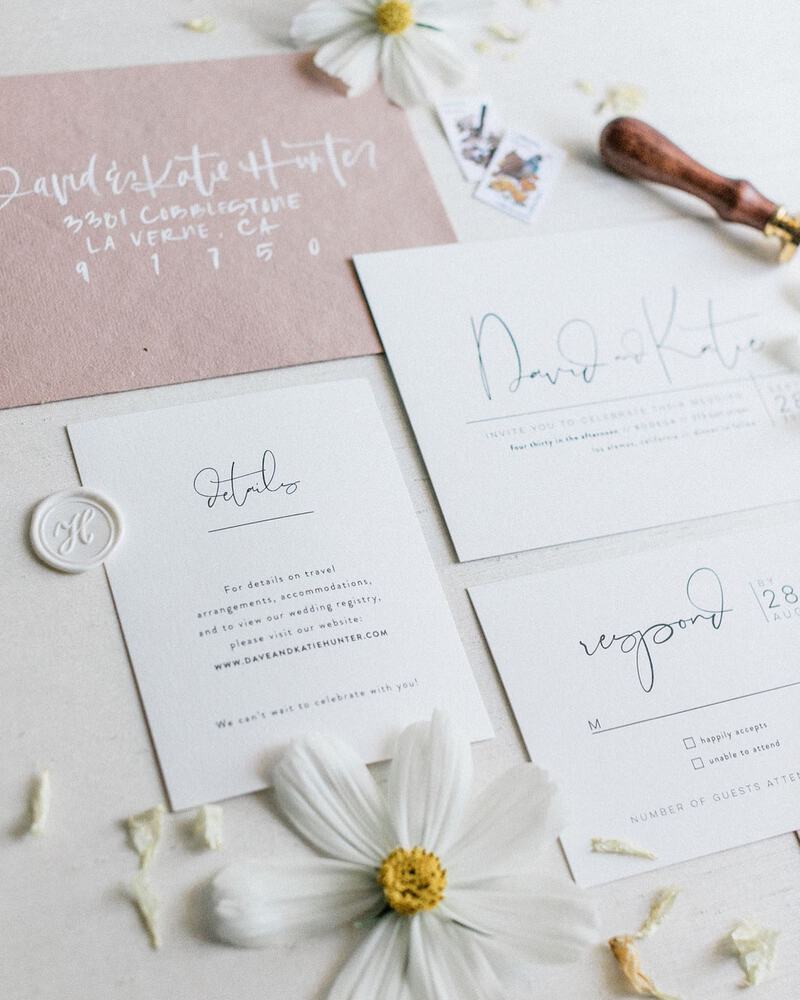 Photo by Katie Hunter
How to Address Wedding Invitation Envelope Home Addresses
With properly addressing your guests' names out of the way, the next step is to hand out the envelope for mailing. So you have to make sure that your guest's physical address is properly placed on the outer envelope.
Their home addresses should be placed a line below their names. Make sure to avoid abbreviations if you prefer a more formal invitation. If not, abbreviations such as St., Rd., and CA (for California) should suffice.
---
Formal address example:
Mr. John Corner and Mrs. Jenifer Corner
16 Faux Road
Fremont, California 94539
Casual address example:
Mr. John Corner and Mrs. Jenifer Corner
16 Faux Rd
Fremont, CA 94539
Remember to make sure each of the home addresses is correct by collecting them in the most efficient manner possible. Avoid having to waste your precious wedding preparation time by contacting each of your guests one at a time.
* Choose your favorite designs and use code 10FREE for $10 in sample credit.
---
Addressing Wedding Envelopes: Inner Envelopes vs. Outer Envelopes
Earlier we mentioned that a wedding invitation may include two envelopes. But, why is this even the case in the first place when figuring out how to address wedding invitations? By tradition, inner envelopes are used for indicating the guests addressed by the invitation, while the outer envelope is used for mailing.
Opting to use just an outer envelope has its benefits but using both can be quite useful as well. For starters, two envelopes ensure that the inner envelope is kept pristine and flawless. Another benefit is the ability to clarify who else is invited such as plus ones or children.
However, there is no such rule that requires you to use multiple envelopes. Aside from the aforementioned pros, there isn't much else to gain from using two envelopes. Outer envelopes are already enough when addressing wedding invitations. Some may even argue that using inner envelopes can be a waste of paper.
So, back to the dilemma at hand. Do you really need inner envelopes for wedding invitations? Well, you don't! It's all a matter of preference, and reducing expenses and paper usage by foregoing the inner envelope is becoming increasingly popular.
---
ENVELOPE TYPE
FLAP STYLE

A-style envelopes
(also called Announcement envelopes)

Square flap

Baronial envelopes

Classic pointed flap

Euro-flap envelopes

Flap with a deeper point
---
STANDARD ENVELOPE SIZES
| ENVELOPE SIZE | DIMENSIONS | BEST FOR |
| --- | --- | --- |
| A2 | 4 ⅜" x 5 ¾" | 4 ¼" x 5 ½" stationery |
| A6 | 4 ¾" x 6 ½" | 4 ½" x 6 ¼" stationery |
| A7 | 5 ¼" x 7 ¼" | 5" x 7" stationery |
| A8 | 5 ½" x 8 ⅛" | 5 ⅜" x 7 ⅞" stationery |
| A9 | 5 ¾" x 8 ¾" | 5 ½" x 8 ½" stationery |
| A10 | 6" x 9 ½" | 5 ¾" x 9 ¼" stationery |
* Choose your favorite designs and use code 10FREE for $10 in sample credit.
---
Wedding Invitation Envelope FAQs
How do you address envelopes for an 18+ wedding?
If you're not inviting children to your wedding, you'll want to make this clear to your guests. This includes for either the ceremony itself or the rehearsal dinner, as well. You can include this on the main invitation or the RSVP card.
Nevertheless, you probably won't want to just include the line are "No kids allowed." Instead, you can try:
"Please note that this occasion is adults-only."
or
"This will be an adults-only celebration."
---
Do you have to address your wedding invites by hand?
Handwriting the invitation addresses is optional. While it can be a very thoughtful touch, it can add a lot of work and more room for error.
Luckily, digital calligraphy is gaining popularity as it emulates a similar feeling to handwritten invites without the stress and time it takes to do it.
"Gilded Henna", designed by Mansi Verma
---
How should you order guests' names on wedding invitation envelopes?
If you're for tradition or not, you can list the person you're closer with first despite having the same last name. Other than tradition telling you otherwise, that decision really is up to you. The same applies to couples with different last names. Arranging the guests alphabetically can also be an option if you're just as close with both of them.
---
Do you have to put Mr. and Mrs. on wedding invitations and envelopes?
It's perfectly acceptable to not use these titles if you are having a more casual wedding. But if you want to stick to tradition and etiquette, the use of "Mr." and "Mrs." is a must.
Whether you decide to use these titles, know that modern and casual weddings allow for much more leeway on what you want to do for your special day.
---
When to send your wedding invitation
Wedding invitations should be sent out 2-4 months before your big day. You want to provide enough time for guests to RSVP, but with save-the-dates going out almost a year in advance, most guests have already made travel arrangements and lodging arrangements, so there's no need to send them further in advance of that.
* Choose your favorite designs and use code 10FREE for $10 in sample credit.
---
Wedding Invitation Envelope Components
A wedding invitation isn't simply a card within an envelope. There's so much more to it than that. Depending on the type of wedding you're going for, you can opt for a variety of different additions to complete your wedding invitation. While there isn't a golden rule on what to and what not to include, understanding the different components can help you decide how you want your wedding invitation to be.
Minted offers different components and stationeries you would need to complete your wedding invitations. Whether you're looking for invitations, outer envelopes, RSVP cards, wax seals, and other finishing touches like belly bands and ribbons, Minted can help you fulfill your dream wedding.
"Scripted Names", designed by Kristy Kapturowski
---
Outer Envelope
Primarily used for mailing, the outer envelope includes the guest's name(s) and address. The design of the outer envelope is complementary to the overall aesthetic of everything enclosed within as well as the wedding itself.
---
Inner Envelope
With the main purpose of keeping your invitation pristine from the post office, more often than not, inner envelopes are no longer needed due to proper handling of the outer envelope by automated readers. Placed inside the outer envelope, this envelope includes all other enclosures along with the main invitation.
If you do opt to use an inner envelope the guests' should also be addressed here as well. Typically, it should only include a couple's title with their respective last names. This is the same for singles guests too. The inner envelope is usually more informal since you already addressed them accordingly on the outer envelope.
Note, Minted currently only offers outer envelopes.
"Fiery", designed by Dia Mae Butay
---
Wedding invitation envelope printing
With the advent of technology, envelope printing is done much better. You can get different types of hand-styled fonts that can complement the main invitation. Minted's wedding invitations include envelopes and custom addressing with our unique styles and fonts to match!
---
Wax seals and stickers
To do your finishing touches, wax seals and custom stickers are good options you could use to seal your envelopes. Wax seals leave a unique imprint that can add a lot to the feel of the invitation while custom stickers give the invitation a smooth finish without the need for additional postage.
"Forever And", designed by Jen Banks
---
Additional postage
Opting for the use of wax seals will most definitely require the use of additional postage. Make sure to check with your local post office to inquire about the size and any other fees before finally sending out your wedding invites.
---
Hand-canceling
A method in which each stamp is processed (or "canceled") with a hand stamp instead of machines. This prevents machine stamps from ruining your invitations. Note that hand-canceling may take additional time, so make sure to allot this when sending the invitations to your local post office.
---
Wedding invitation RSVP cards
RSVP cards are essential to confirm the number of guests present at your wedding. These cards can be included separately or indicated on the main invite. Make sure to duly note the deadline of the invite to give the organizer ample time to prepare for the wedding.
"Deco Garden", designed by Eric Beckett
* Choose your favorite designs and use code 10FREE for $10 in sample credit.
---
How To Assemble Your Wedding Invitations
With the stress of properly addressing your wedding invitations out of the way, you're now one step closer to finally sending your invites out. But, don't rush! Now that you have all the components, it is now time to assemble the invitations and enclose them in proper order.
Follow our step-by-step guide on assembling your wedding invitations – and get ready for the RSVPs to come in for your big day. Here's to the happy couple and the rest of your lives together!