With all the rules and etiquette surrounding weddings, expressing your gratitude to your guests is probably the most important. Here are some guidelines for who to send thank you cards to, and when to send them.
A bridal or wedding shower is a celebration that honors the bride/groom and their upcoming marriage. It's also traditionally an opportunity for guests to give gifts to help set up their new home. Nowadays, wedding showers can take many forms and themes, from elegant high tea luncheons to a group cooking class or casual co-ed gathering with the groom-to-be and his pals in attendance, as well. To make this process easier, we've designed the ultimate guide to a successful bridal shower. We've answered your most pressing questions and given you a bridal shower checklist that will guarantee a flawless day.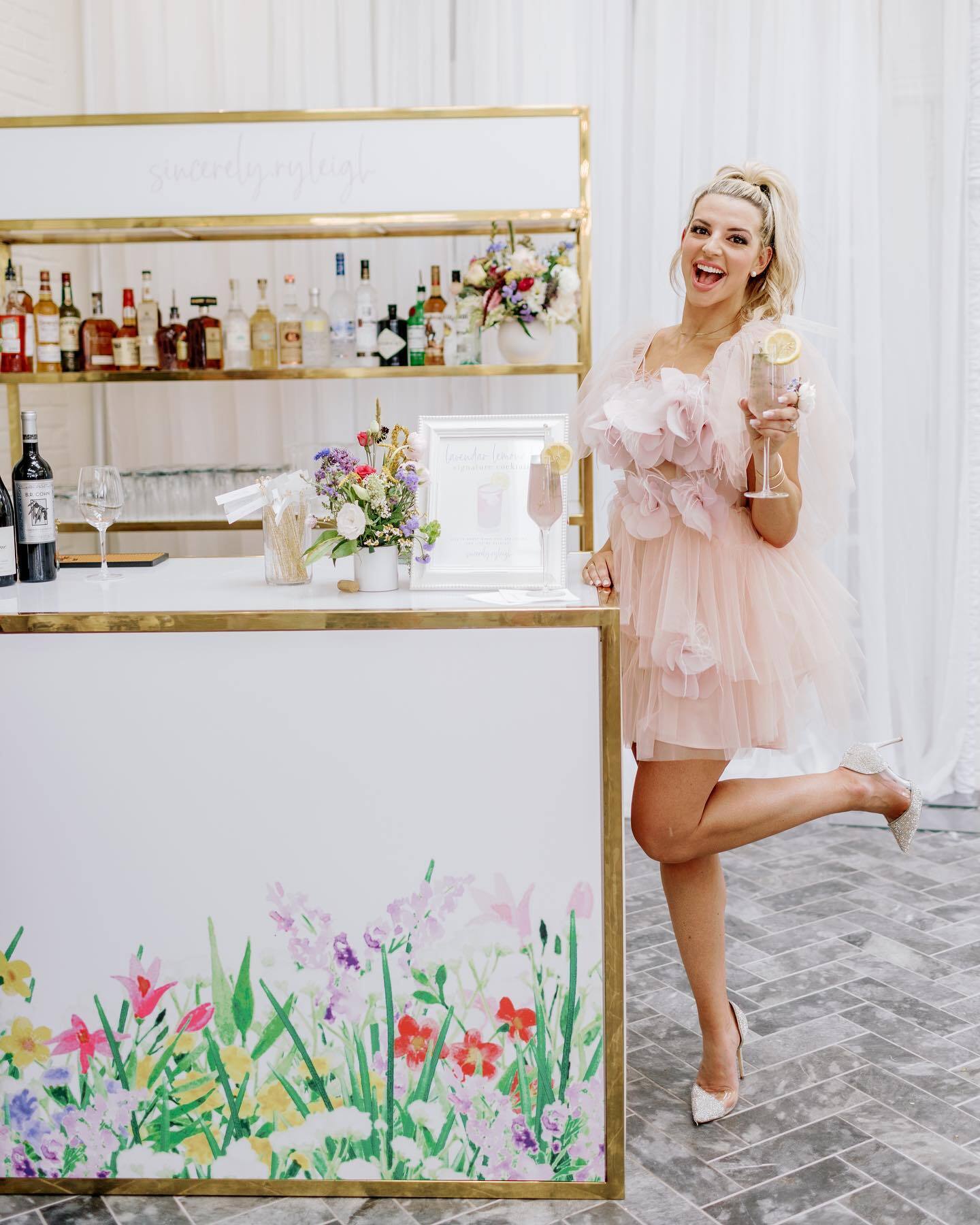 Photo credit: Lauren Renee
---
BRIDAL and WEDDING SHOWER ETIQUETTE
WHEN DO YOU HAVE BRIDAL/WEDDING SHOWER?
Typically, showers are held two to six months prior to the wedding. But this timeline can be changed if there are other circumstances to consider, like a guest who is important to the bride/groom will already be in town. You'll want to choose a time that is convenient for the bride/groom and also her other essential guests. It's a good idea to ask the bride/groom-to-be who their most important guests are. If she would be devastated that her sister from Iowa can't make it, make sure you talk to the sister before solidifying the date. If you'll have many guests coming in from out of town, some people like to do their wedding showers on the same weekend as a bachelorette party to ensure that the largest number of people can attend both events. The key is to plan far enough out so that all the bride's VIPs have plenty of warning.
Botanical Cheers by Itsy Belle Studio
WHO HOSTS THE WEDDING SHOWER?
Though there's no fixed rule on who hosts the wedding shower, these days, it's often thrown by the bridesmaids, the maid of honor, a close friend, or close female relatives or family friends. Sometimes work colleagues opt to throw a separate shower organized at the office; additionally, future in-laws may want to host a get-together to make introductions. The key is to let individual circumstances be your guide when determining who should serve as host. Remember that if you are hosting, you don't have to go it alone. You can ask someone to co-host with you. You can also enlist the help of bridesmaids or other people with dish planning, decorations, or other event plans.
DECIDE ON A WEDDING SHOWER THEME
While you don't have to have a theme for the bridal/wedding shower, you want to at least coordinate your colors and general style. Themes are such a festive way to celebrate. You can go for something more understated and classic, or something over the top. If you are going to have a theme, it's a good idea for the host to get the bride's approval. The theme is a way to signal to guests what kind of gifts to bring—i.e., lingerie, linens, kitchen or baking accessories, or camping equipment—and if she's created a gift registry. Or, in lieu of gifts, brides may opt for donations to a favorite charity.
Arched by Pixel and Hank
You'll want to decorate according to the theme. So start thinking about this early! You could also match the shower to the wedding theme. For example, if the couple is having a beach wedding, then you could have a beach-themed shower. Here are a few themes to get your creative juices flowing:
Garden party
Preppy
Travel
Tea party
Summer fun
Champagne brunch
Camping or outdoor adventure
CONSIDER A COUPLE'S SHOWER
Traditionally bridal showers were just for the bride and only women were invited. While many consider a bridal shower a fun women-only bonding event, others prefer not to celebrate that way. Times are different, relationships can take many forms. For this reason many couples prefer to make this a couples event. Maybe both the bride and groom care about the details of setting up the home and don't want it to be exclusively the woman's purview. Maybe the couple is same sex. Regardless, a couples shower is essentially the same except all genders are welcome at this event. It doesn't even need to be about "setting up your home," but can be just another excuse to celebrate the happy couple. The key is to communicate with the couple to see if they are interested in this option.
If the soon-to-be-weds prefer to celebrate together, a couples shower includes both their families and friends. While there are no set rules around this shower idea, keep in mind the co-ed guest list when planning the theme, menu, and activities, and make it clear on the invitation so guests know what to expect.
Verdure by Leah Bisch
WHO'S INVITED TO THE BRIDAL SHOWER?
When it comes to the invitation list, let the couple weigh in and provide you with a guest list and each person's email and mailing address. Everyone invited to the bridal shower should also be invited to the wedding. You can keep this event small–just the wedding party and family, or you can invite a wider circle of friends.
ORDERING & SENDING BRIDAL SHOWER INVITATIONS
The next step is for the host to select bridal shower invitations that will set the tone for the entire party. When choosing your invitation, find one that matches the theme of your bridal shower.
The invitations should be mailed six to eight weeks before the shower date, depending on how many out-of-town guests are on the invite list. Aside from containing all necessary information—date, time, location—invitations might ask guests to bring memories of the bride to share during a toast, or early photos of the guest of honor to post on a pinboard. Make sure guests RSVP to one person (the maid of honor, for example), to keep numbers organized. Also, spread the word about where the bride is registered by including this information on the bridal shower invitation.
Mr. & Mrs. by Robert and Stella
---
---
BRIDAL SHOWER PLANNING GUIDE
Our handy guide to throwing a fabulous wedding shower
---
Does the bride have to open her gifts in front of her guests? While many brides choose to open their gifts in front of their guests, this is not a requirement. This is especially the case if the bridal shower is large. Who wants to sit around and watch someone open 40 gifts? If you are choosing not to open gifts at the shower, consider displaying the gifts more discreetly, as the gifts won't be a central part of the event.
Does the bridal shower host have to give a gift to the bride? Traditionally, the host still gives the bride a gift at the bridal shower.
Can you invite people to the shower who are not invited to the wedding? In a word, no. There is one exception to this: if you're having a family friendly bridal shower and want to invite children who will not be invited to the wedding itself.
Should a registry be included on the bridal shower invite? It can be. Bridal showers were traditionally a celebration that helped the bride set up her new home. Useful home items were given and many still like to treat the bridal shower this way, so including a registry makes a lot of sense. These days, some couples already have their homes set up and want other things like donations to favorite charities. The long and short of it is that this is up to the bride and groom!
Should a bridal shower have a dress code? Most bridal showers are assumed to be classy casual (think sun dresses, a blouse with pants, something you would wear to a classy weekend brunch), so if you have something more elegant in mind, be sure to signal this to guests on your invitation. Writing "cocktail attire," or "casual attire" will do the trick.