Annie Clark was a Minted designer before she was a Minted employee and she's always very helpfully reminding us of the community's perspective. Besides being an incredibly talented designer, Annie is also a type fiend and paper lover.
When did you first realize you wanted to be a designer?
I'll give my dad the credit for this one. In sixth grade we had to write future autobiographies – where we would be in 10, 20, 30 years etc. I always knew I wanted to have some career involving art, so when I was asked my dad what I would be, he said I would be a graphic designer, and it just sort of stuck.
Do you have any formal design training?
I went to San Francisco State University and studied Industrial Arts with a concentration in graphic design. After graduating I worked at a small design firm in San Francisco, and when the Holidays came around I got assigned the task of designing several corporate holiday cards. I quickly found out that designing stationery was much more enjoyable than laying out annual reports (especially those with no budget or creative flair), so about a year later I took a job at a local San Francisco paper store designing wedding invitations.
How would you describe your style?
Hmmmm, that's tough because I think I'm still trying to define and develop my design aesthetic . My Sweet Sixteen design is the best example of what I want my style to be, a little bit retro, a bit modern, and strong/deliberate use of type.
Your designs are so elegant and they make such good use of typography, are they as effortless as they seem?
Why thank you! For me the easiest part is the concept. I can pretty quickly sketch out an idea. But the devil is in the details and that's where I spend days pouring over the right color palette, font choice and placement.
Do you have a favorite font right now?
I've had a pretty intense love affair with Hellenic Wide and Archer for a while now. Although Archer seems to be popping up everywhere these days, the San Francisco Chronicle's redesign, Wells Fargo, so it might be time to find something new.
Favorite color right now?
Mustard yellow! Closely followed by a warm robbin's egg blue, and tomato.

Favorite pen?
I love Koh-I-Noor Nexus Studio pens– I've always have at least 3 in the bottom of my purse. Being left-handed I'm always looking for pens that don't smear so easily, so if you have any suggestions…..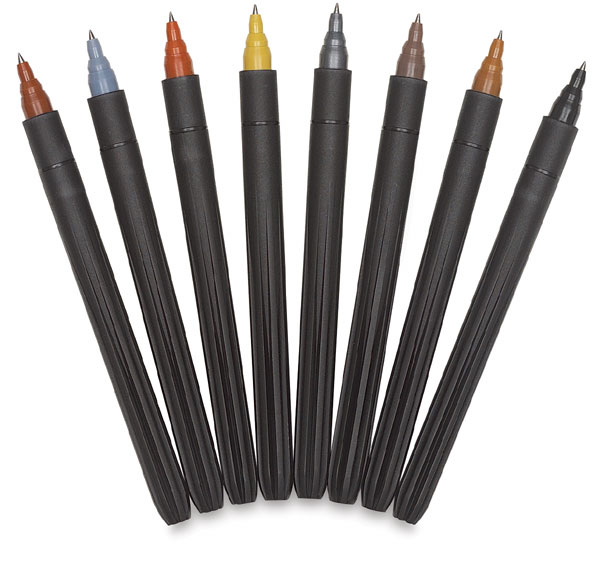 Favorite notebook?
You can't go wrong with a classic moleskine.

Tell us about one of your favorite cards offered for sale on Minted and how you came up with the design.
Hip New Year came from a result of creating something I'd like to send to myself, a "designer's design". I was…and still am a bit obsessed with Hellenic Wide so I knew I had use it in this design. I though overlaying the in-line type was a great way to show transition from the past to the new year and created such a great graphic image.
What are the places in San Francisco that you would recommend a visitor check out?
I have an unofficial "Annie Clark's Eating and Walking Tour of San Francisco". It's best spread out over a couple of days, but some highlights include, coffee and donuts at Four Barrel, croque monsieur at Tartine, a stop at the Kung Fu Taco Truck (an office favorite), dinner at Farina, and salted caramel ice cream with a bit of hot fudge from Bi-Rite Creamery.
Where do you like to shop?
If I could outfit myself everyday from Anthropologie I would. I would also be penniless, cute, but penniless. For clothing I like Behind the Post Office (the only reason I got to the Haight) and the Candy Store. And for random designy things Rare Device and Park Life.
How does living in San Francisco more generally influence your design?
It's so competitive! Throw a stone and you'll probably hit at least 5 graphic designers, not to mention the stellar design firms, like Chen Design Associates, Hatch, Landor… the list goes on and on. But with that comes great inspiration. There's always lots of open houses and gallery events to ignite a creative spark.
What are your favorite online design sites and blogs?
So many! Dooce and Design*Sponge are perennial favorites of mine. I can spend hours trolling ffffound.com for design inspiration. Daily reads also include OhJoy, ForMe-ForYou, and a decent handful of wedding blogs.
What designers do you really admire?
I adore the brand that Kate Spade has created. Every detail from the website, clothes, to stationery is just spot on. I want to live in that world. I think Jessica Hische is amazing. I love typography, and when I discovered her work it was love at first sight.
Do you have any hobbies (besides design) of note?
Eating, walking around, eating some more.
What advice would you give a new designer?
Type, type, and more type! It can easily make or break a design. I cannot stress enough how important having a solid understanding of typography is. Also understanding the medium you're working in. Always think about the end product, really light colors and delicate details may be perfect for letterpress, but don't translate well in the world of flat printing.
And, finally, what do you love most about working for Minted?
I love helping emerging designers. I think Minted is very lucky to host such an amazing community of talented designers and its a joy to work at a place that helps promote independent artists.
Find more of Natasha on her blog.
10

COMMENTS