Our whole office is still oohing and ahhing over Cheree Berry's wedding, which was featured in Martha Stewart Weddings last summer. Today, Martha Stewart Weddings website wrote about her precious lollipop stands.
We proudly sell Cheree Berry Paper's covet-worthy personal stationery on our site.
We were fortunate enough to steal a few moments of this gorgeous design maven's time to find out how she comes up with such happy, whimsical, and inspiring designs.
How did you get your start?
I was at Kate Spade working in the design department, which is fabulous because no matter your position you get to work on a variety of projects and I got to work on the Kate Spade and Crane's wedding albums. While I was doing that I was simultaneously designing invites for friends and friends of friends. I was so excited when people saw their designs that I wanted to do this full-time. In January 2006, I decided to move back to my home state Missouri and start my own stationery business.
How would you describe Cheree Berry Paper?
We design things that we really love and we try to execute them in a smart and funny way. When someone opens a Cheree Berry envelope, we want it to put a huge smile on their face—we'll look for that laugh aloud moment and not necessarily even because it's a funny card, but just because what they found was unexpected. If we could have a little person pop out of the envelope, we would try for that next!
So you really want to re-invent the wheel?
Exactly. We're not going to just throw starfish all over the invite because we want to fill the beach category. Nothing against starfish, but we would try to invent a new theme for a destination, beach-style wedding.
What do you like best about designing wedding invitations?
With personalized stationery it's very limited; a favorite color or motif is all you can showcase. An invitation suite lets us tell the love story, the season they're being married, if they're wearing their grandmother's dress… we try to think about what little hook will make their invitation different from the next bride out there. Brides always want to do something that their best friend didn't do so they really keep us on our toes.
What current wedding invitation trends are you noticing?
Lots of clients actually reference the J. Crew catalog—they're actually the ones setting the trends in color palettes. We're seeing a lot more of a charcoal gray—it softens black ink up a bit. We've also noticed that even brides who have formal weddings aren't afraid of color and very few brides have just one color anymore. We're doing a lot of coral and yellow. Grey and chartreuse have also been really popular.
Monotones are great for a bride that wants depth in her color palette but doesn't want lots of hues, so we might do a dark pink, red, orange and keep all the colors in the same warm family. We see a lot of that.
Lavender is enjoying a comeback; Whereas a couple years ago it was a deep, reddish purple, now people are going more for a softer purple. We get a lot of green because you are always going to have green at some level with the greenery in the flowers and with all the outdoor weddings. But the wedding trend with color is still very much driven by the bridesmaid colors; if you have six girls standing up front wearing an orange dress you can't escape the color.
What about fonts… any go-to favorites?
We love Bonn. We love the more extended sans serif fonts. We love shaded fonts. As a stationery designer, fonts are one of those things where every so often we have to pull-back and take a look at using the same fonts. When we notice that other people are using a font, it's probably time to think of finding a new one. So many people love Burgess, but what I specifically love about it is all the different capitalizing options that come with the font so you can make it look more like your own.
Any advice to new designers on fonts?
On wedding invitations with limited text I love small caps. In programs or items with a lot of copy, like a welcome itinerary for example, the eye tends to be do better at reading when you cap normally, i.e. what is grammatically correct.

Any hot wedding fonts?
Brides have gotten savvier in the last four years; They say we like the fonts with the feet or we don't like the feet. When we type-set an invite, we now send them two to three font options and they have usually have a really strong opinion.
We do love scripts. Most of our invites, unless our client tells us not to, have some sort of script. We love just that hint of script even for our modern or even more masculine invitations. It feels very romantic and appropriate for wedding stationery, even if it's just the 'and' in-between their names. After all, "and" is really a symbol of two people joining together in a marriage.

Where does all of this creative genius take place?
We just took over the whole floor of our building so we now have 1800 square feet and it's an old, old building. We have five rooms, but they are all open by pocket doors to one another. We leave them open so we can bounce ideas off of each other. There isn't a lot of privacy, but the open environment allows for great group thinking. We all work in the main first three rooms and we leave the back two open for meetings and for inventory, storing supplies, and all the nitty gritty—like handwork and ribbon binding.

Where do you meet with clients?
We have a great red table from Design Within Reach in our meeting room. A lot of our work tends to be on a white or cream base and we wanted the invites to pop off the table, although we can put butcher paper over it if it competes with their palette. There's this happy face bowl of laughs in the middle of the table with cut-out "Ha's" that our customers sometimes use to write notes on.
Neat or messy?
I hate to say it but I am completely unorganized. I am the type of person who knows where everything is, but not in the conventional way.
PDA or paper calendar?
I have an iPhone, but I don't put my appointments in it. I use a Kate Spade calendar. I am just obsessed with it. I love the process that goes into their calendar.
Are you a big card writer?
I have always had a huge stationery drawer and when I lived in New York I spent the better half of my life in Kate's Paperie. My mother taught me the etiquette that you should always write a thank you note on paper. I think it is great to have lived in an era where growing up you didn't have the option to e-mail and it is interesting how hard it would be as a parent now to instill that message in your children.
What's your favorite pen for writing all those cards?
I like the UniBall Deluxe Micro pen. I buy them by the dozen. I am also the pen stealer in the office— whenever I go to someone's desk in the office, I take their pen. One of my designers has a hidden pen stash and I'm not even allowed to know where it is!
Ink color?
Definitely Black.
Notebook of choice?
I'm a big fan of Rhodia orange notebooks and I prefer the grid paper – I like having the little cells. I write better with them and they're great for doodling or sketching ideas. They help guide me.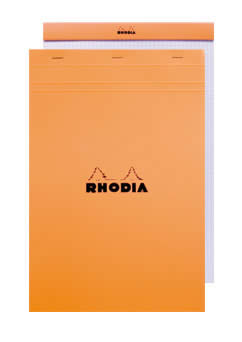 We adored looking through your recent wedding . I was wondering where someone with such good taste registers?
I didn't register for anything out of the ordinary. I got the Vietri Incanto White China for my every day dinner wear. I love the pottery look and its ruffled, scalloped edge. The pottery is painted white, but it's slightly worn when you buy it. It's is beautiful. We didn't do china we just did that. When we have dinner parties, we just pull out our serving trays. I always think that Anthropologie or Johnathan Adler should do a registry. I am obviously a huge fan of John Darien—I love his decoupage plates. Oh and I love thisisauto.com's great mix of products.
What are you doing for your holiday card this year?
I'm a non-traditional card sender. This year we did a Halloween card—I love when people have an unexpected holiday—there can be another time of the year to make a different impression. I love that New Year's cards are a very big trend right now.
MORE AFTER THE JUMP...
3

COMMENTS